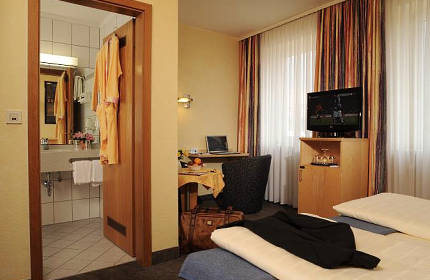 Rooms - Hotel Strauss
Cozy rooms and suites in the center of Wuerzburg
City Partner Hotel Wuerzburg
Our Rooms
All rooms
are equipped with bath or shower, toilet,
hair-dryer, cosmetic mirror, telephone,
fridge and flat-screen TV.
All rooms have air conditioning
(except the single standard).
Free WiFi is available.
For families shared rooms are available
and for our "smallest" guests we keep
baby cots available.
You can choose between 50 international
TV and radio programs and
7 free Sky channels
(including film, sport and league).
We ask for your understanding that pets
are not allowed!
On arrival day you can check-in
at 3.00 pm
On departure day check-out no later
then 11.00 am
We offer a rich
breakfast buffet - including drinks
such as coffee, tea, juice and water,
which is served in our restaurant from
7.00 to 10.00 am. For breakfast we
charge 15,- € per person and per day.
A limited number of car and coach
parking spaces are available. Next to the
hotel, there is a public underground car
park with 350 spaces.
Single

|

Double

|

Family

|

Suites
Single Room Standard from 65 €
•
14 to 16 sqm room
•
Bed size 90/200 cm
•
Shower, toilet, hair-dryer, cosmetic
mirror
•
Telephone, fridge, safe
•
Desk or sitting area
•
Flat-screen TV with 50 international
TV and radio channels
•
Free of charge:
WiFi, Sky channels and 1 bottle water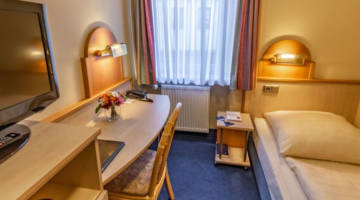 Single Room Comfort from 70 €
•
16 sqm room with air conditioning
•
Bed size 100/210 cm
•
Bath or shower, toilet, hair-dryer,
cosmetic mirror
•
Telephone, fridge, safe
•
Desk or sitting area
•
Flat-screen TV with 50 international
TV and radio channels
•
Free of charge:
WiFi, Sky channels and 1 bottle water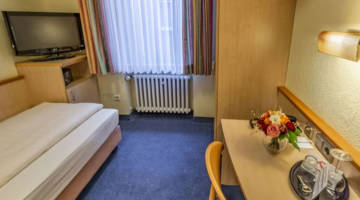 •
16 to 18 sqm room with air conditioning
•
Bed size 90/200 cm
•
Shower, toilet, hair-dryer, cosmetic
mirror
•
Telephone, fridge, safe
•
Desk or sitting area
•
Flat-screen TV with 50 international
TV and radio channels
•
Free of charge:
WiFi, Sky channels and 1 bottle water


Double Room Standard from 90 €
•
18 to 20 sqm room with air conditioning
•
Bed size 160/200 cm
•
Bath or shower, toilet, hair-dryer,
cosmetic mirror
•
Telephone, fridge, safe
•
Desk or sitting area
•
Flat-screen TV with 50 international
TV and radio channels
•
Free of charge:
WiFi, Sky channels and 1 bottle water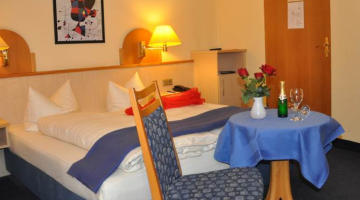 Double Room Comfort from 110 €
•
20 to 22 sqm room with air conditioning
•
Bed size 180/200 cm
•
Bath or shower, toilet, hair-dryer,
cosmetic mirror
•
Telephone, fridge, safe
•
Desk and sitting area
•
Flat-screen TV with 50 international
TV and radio channels
•
Free of charge:
WiFi, Sky channels and 1 bottle water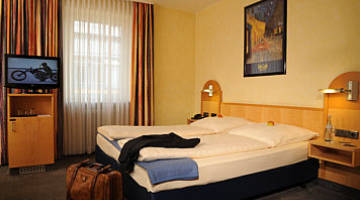 •
20 to 26 sqm room with air conditioning
•
Bed size 180/200 sqm and 90/200 sqm
•
Bath or shower, toilet, hair-dryer,
cosmetic mirror
•
Telephone, fridge, safe
•
Desk and sitting area
•
Flat-screen TV with 50 international
TV and radio channels
•
Free of charge:
WiFi, Sky channels and 1 bottle water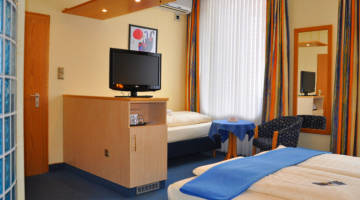 Double Room Superior from 130 €
•
28 to 35 sqm room with air conditioning
•
Bed size 180/200 cm
•
Bath or shower, toilet, hair-dryer,
cosmetic mirror
•
Telephone, fridge, safe
•
Desk and sitting area
•
Flat-screen TV with 50 international
TV and radio channels
•
Free of charge:
WiFi, Sky channels and 1 bottle water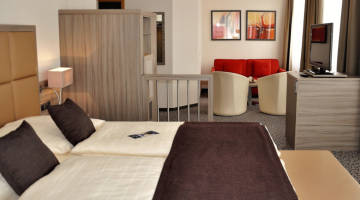 •
70 sqm suite with air conditioning, living
area, two sleeping rooms, separate
toilet and terrace
•
Bed size 180/200 cm
•
Large bathroom with shower, toilet,
hair-dryer, cosmetic mirror
•
Telephone, fridge, safe
•
Desk and sitting area
•
2 x Flat-screen TV with 50 international
TV and radio channels
•
Free of charge:
WiFi, Sky channels and 1 bottle water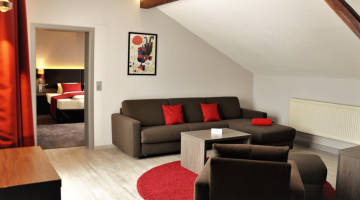 Hotel Strauss
Juliuspromenade 5
D-97070 Wuerzburg
Phone
+49 (0)931 30570